In this issue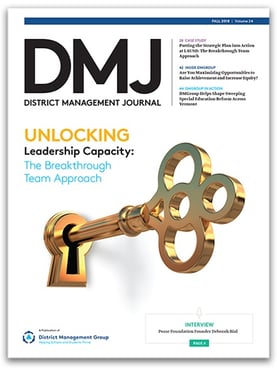 Unlocking Leadership Capacity: The Breakthrough Team Approach
Our Spotlight article introduces the Breakthrough Team Approach and explores how this approach can help school districts tap into the potential of their staffs, empower teams, build leadership capacity, and achieve results. Also included are:
10 Mistakes to Avoid - Unlocking Leadership Capacity
Ten key lessons to keep in mind when implementing the Breakthrough Team Approach.
Manager's Toolkit - How SMART Are These SMART Goals?
Take this quiz to see if you can identify the strongest SMART goals.
Building a Posse of Diverse Leaders: An Interview with Deborah Bial
Learn how Posse Foundation is preparing promising students of diverse backgrounds to become future leaders.
Putting the Strategic Plan into Action at LAUSD: The Breakthrough Team Approach
This case study explores how Los Angeles Unified School District (CA) has been putting a new strategic plan into action and unlocking the potential of front-line staff.
Results from DMGroup's Elementary School Scheduling Survey
How do your scheduling practices compare to common practices around the country and to best practices? Check out the findings from our national survey of over 100 elementary school principals.
Are You Maximizing Opportunities to Raise Achievement and Increase Equity?
Take our diagnostic to see if your scheduling practices are making the most of student and teacher time.
DMGroup Helps Shape Sweeping Special Education Reform Across Vermont
Learn about sweeping special education reform legislation in Vermont that passed with the support of a broad coalition and what these changes will mean for students with IEPs and other students who struggle.
---