Current issue: Spring 2019
Developing High-Potential Leaders
Spotlight - Growing Talent: Developing High-Potential Leaders to Fuel a Powerful Talent Management Strategy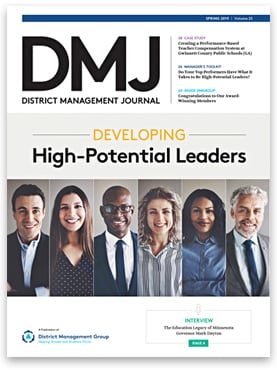 Dozens of studies examining a variety of productivity and output measures across a wide variety of organization fields show that an organization's strongest performers and high-quality leadership have an outsized impact on its output and success. In this Spotlight, we focus on strategies to help districts build a strong pipeline of individuals who can successfully grow into leadership roles in schools and central office. Also included are:
10 Mistakes to Avoid - Developing High-Potential Leaders
Keep these lessons in mind as you seek to build a strong pipeline of future leaders.
Manager's Toolkit - Do Your Top Performers Have What It Takes to Be High-Potential Leaders?
Strong performers are often assumed to have high potential, but research indicates that generally only one in seven high-performing individuals actually is a high-potential leader. Use this toolkit to determine whether your strongest performers have what it takes to be a high-potential leader.
Interview - Standing Up for Students, Teachers, and Schools: The Education Legacy of Minnesota Governor Mark Dayton
Two-term governor of Minnesota Mark Dayton made supporting education a priority. In this interview, Governor Dayton reflects on his administration's strategy to improve education, the state's role in education, his accomplishments, and the challenges he encountered.
Case Study - Creating a Performance-Based Teacher Compensation System at Gwinnett County Public Schools (GA)
With a belief that a performance-based compensation system is critical to supporting a high-quality teaching force and maintaining the district's trajectory of improvement, GCPS embarked on transformational work to design and implement a performance-based teacher compensation system. Read about GCPS' journey.
Case Study - Raising Achievement in Indian Prairie School District 204 (IL): Instructional and Scheduling Guidelines Pave the Way
Indian Prairie School District 204 (IL) was focused on improving supports for struggling students. A DMGroup study of the district's existing intervention programs and practices revealed that scheduling was among the greatest barriers to effective delivery of intervention services. Read about how IPSD's new approach to scheduling supports extra-time interventions and allows for implementation of other best practices.
DMGroup in Action - LAUSD Tackles Chronic Absenteeism with InClassToday: Leveraging Behavioral Science to Drive Results
With 14% of the district's student population chronically absent in SY2016-17, LAUSD engaged InClassToday to launch a pilot program to raise attendance. Leveraging behavioral science research, InClassToday implemented its cost-effective, easy-to implement approach that resulted in LAUSD recapturing 24,000 days of instruction and generating an additional $1.5 million in average daily attendance (ADA) revenue—more than nine times the cost of the program.
Inside DMGroup
Congratulations to our Award-Winning Members

Dr. Curtis Jones, Jr., 2019 National Superintendent of the Year and 2019 Georgia Superintendent of the Year
Dr. Alan Addley, 2019 Connecticut Superintendent of the Year
Dr. T. Lamar Goree, 2019 Louisiana Superintendent of the Year
Mr. Jay Haugen, 2019 Minnesota Superintendent of the Year
Gwinnett County Public Schools (GA), 2018 Governance Team of the Year

Members on the Move

Welcome New Members
---