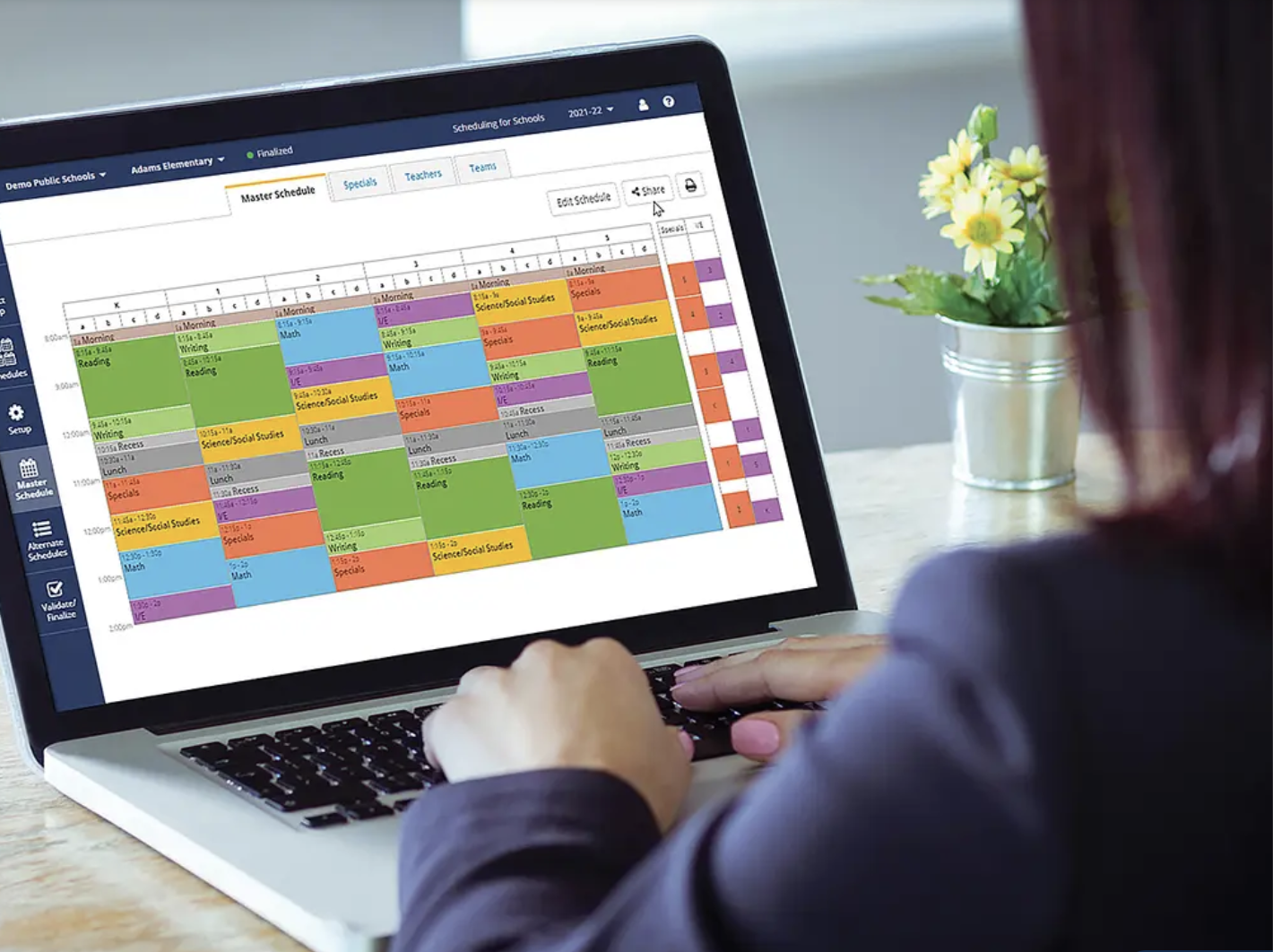 LIVE DEMO
DMSchedules

for Elementary Schools

Scheduling Software
Thursday, March 23, 2023 - 3 PM - 4 PM EST
DMSchedules Live Demo
Join us on Thursday, March 23 at 3pm EST for a practical demonstration of DMSchedules for Elementary Schools scheduling software.
Our scheduling experts, Alice Lai and Craig Gibbons, will show you how to build schoolwide schedules faster and easier than ever before. Using simple drag-and-drop features, you can quickly create the main schedule and automatically generate homeroom, specials, and other supporting schedules.
You will learn how to:
➡️ Incorporate your district and school instructional minute guidelines
➡️ Ensure all periods are scheduled while making time for student services
➡️ Integrate Intervention/WIN blocks
➡️ Build in common planning time opportunities
➡️ Generate specials rotations and teacher schedules
➡️ Coordinate schedules for staff shared between campuses
➡️ Add teacher aides and supporting staff to homeroom schedules
➡️ Quickly identify and correct potential schedule problems
➡️ Easily share your schedule with everyone in a single click
All attendees will receive a free 14-day trial. If you sign up for DMSchedules before April 7th, we will build your first schedule for free.
District Management Group was founded in 2004 on the belief that management techniques combined with education best practices are key to addressing American public schools' challenges. We partner with school and district leaders nationwide and provide them with the best management and educational practices, tools, and techniques to produce measurable, sustainable improvements that help schools and students thrive.
About DMSchedules
DMSchedules combines our powerful, web-based scheduling software, field-proven best practices, and a team of scheduling experts to help you define instructional priorities to develop effective student-centered school schedules and individual staff schedules. Today, thousands of educators nationwide use DMSchedules for their elementary school and special education scheduling.