Elementary

Scheduling

Academy
Hands-on, cohort-based workshop designed to help you
build better, more strategic elementary schedules
October 17 - December 5, 2023
Join DMGroup's Elementary Scheduling Academy to learn how to build your best-ever school schedule quickly and easily using the DMSchedules scheduling software!
Why start scheduling early?
I

dentify resources needed for stronger schedules and include them in next year's budgets

Create a runway to plan and execute bigger changes

Provide teachers with time to adapt lesson plans, receive professional development, and deliver other supports to prepare for bigger changes

Gather feedback on the current schedule and respond with "quick win" adjustments early in the school year

And much more!




Who is the Academy for?
New principals preparing schedules for the first time

Principals looking to learn more about scheduling best practices

Schedulers seeking new approaches to solve scheduling challenges




District leaders focused on curriculum and instruction and elementary education



Space is limited, reserve your spot today!
Cost
The cost is $3,500 per school.
Register today or give us a call at 877-617-8577 with any questions!
Program Highlights:
At DMGroup's Elementary Scheduling Academy, we'll use our methodical approach to building best-in-class elementary school schedules based on decades of experience with school leaders nationwide.
Software license

: Each participant will be issued a 1-year license with full access to DMSchedules for Elementary Schools scheduling software to

create, manage, and optimize their school schedules at no charge

($1,500 value).

Intensive hands-on work: We believe that the best way to learn is to learn by doing. Guided by DMSchedules scheduling experts, each participant will

use the software to put best scheduling practices into action and

build their school schedule.
Peer network: The academy is designed to engage participants in discussion and share ideas across districts and schools. You will meet other like-minded school administrators with whom to share challenges and lessons learned.


Ongoing scheduling support:

Our scheduling experts will

provide guidance and support with scheduling iterations during and after the Academy, until you have your final schedule.



Calendar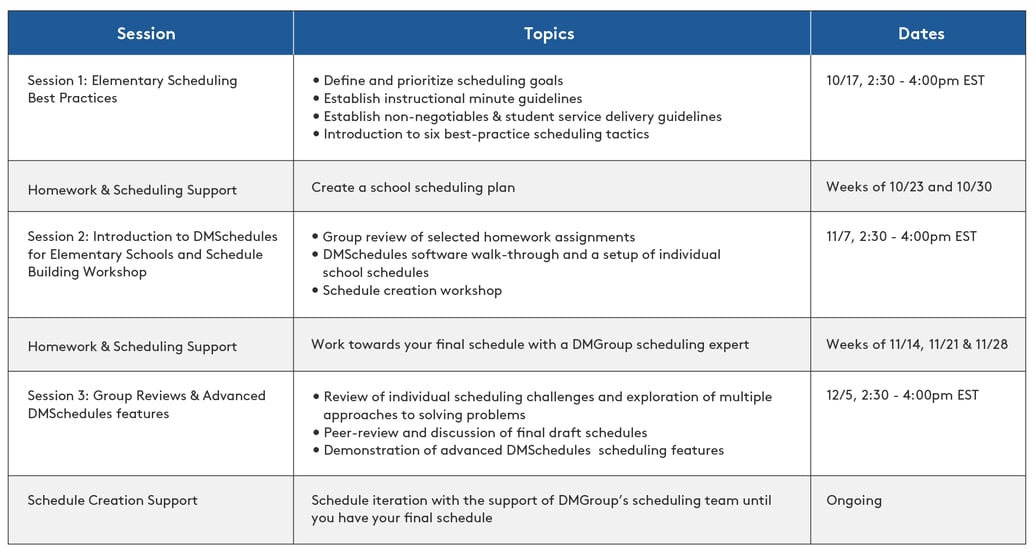 District Management Group was founded in 2004 on the belief that management techniques combined with education best practices are key to addressing American public schools' challenges. We partner with school and district leaders nationwide and provide them with the best management and educational practices, tools, and techniques to produce measurable, sustainable improvements that help schools and students thrive.
About DMSchedules
DMGroup's flagship scheduling product - DMSchedules provides scheduling software and services to elementary school principals to help them create strategic elementary and special education schedules aligned with district priorities and students' current needs quickly and easily.