DMGroup's Superintendents' Strategy Summit
Superintendents convene for learning and collaboration on the topic of strategic human capital management
DMGroup's 16th annual Superintendents' Strategy Summit, held last month in New York City, brought together 70 superintendents to explore the strategic role of human capital management in enabling districts to deliver excellence and equity to all students. Participating superintendents represented diverse districts in different locations, with differing student demographics, and enrollments ranging from as few as 470 students to over 83,000 students.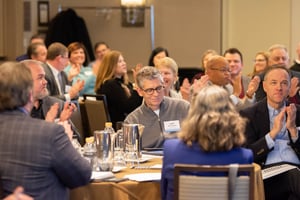 During the three-day Summit, participants delved into the importance of aligning the district's human capital strategy with overall district goals and strengthening the district's pipeline of talent by applying new approaches to recruit top teachers, systemically identifying and developing high potential leaders, and preparing for the future with robust succession planning for building and district leadership positions.
Superintendents also heard a thought-provoking presentation on Bridging Demographic Divides: Navigating Identity and Class Differences from the Summit's keynote speaker, Harvard Business School organizational behavior professor Lakshmi Ramarajan. Lakshmi shared her research on how individuals manage their organizational, cultural, and personal identities, and how these identities influence working across race and class divides.
This year's Summit also introduced DMGroup Ideas in Action sessions, which featured member superintendents sharing about initiatives they have undertaken to address key challenges and to align goals and objectives within their districts. Participating superintendents included: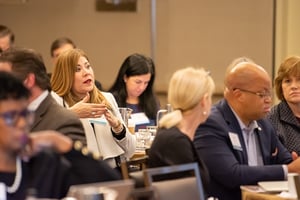 Dr. Jeff Ronneberg, Spring Lake Park Schools (MN)

Dr. Paul Cruz, Austin Independent School District (TX)

Dr. Sue Rieke-Smith, Tigard-Tualatin School District (OR)

Dr. Karen Sullivan, Indian Prairie School District (IL)

Dr. Ehren Jarrett, Rockford School District (IL)

Dr. Brian White, Butler Area School District (PA)

Dr. Regina Speaker Palubinsky, Great Valley School District (PA)
We'll revisit the topic of human capital in a context suited to broader district and building leadership teams at DMGroup's 2019 Leadership Development Meetings (LDMs) in Chicago and Boston. With a deep exploration of how to more effectively recruit and hire staff as well as collectively identify and develop high potential leaders, LDMs provide a unique and valuable opportunity to collaborate on actionable strategies to improve district human capital activities. This year's LDMs will also include District Workshops, facilitated sessions in which teams can work with DMGroup experts to tackle a specific human capital challenge facing their district.
The Chicago LDM takes place April 25th-26th, followed by our fall LDM in Boston, November 7th-8th. LDM registration for the superintendent and three district team members is included with DMCouncil membership. Member rates are available for additional registrants. Details and registration for the Chicago LDM can be found here. Registration for the Boston LDM will open in late February.