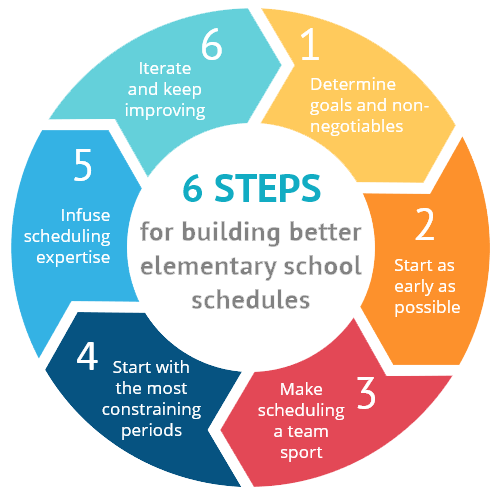 FREE Webinar
6-Step Process For Building Better Elementary School Schedules


Thursday, February 9, 2023 - 11:00 AM - 12:00 PM EST
About this webinar
Join our free webinar on Tuesday, February 9, 2023 at 11 am EST to learn from our school scheduling experts as they share our proven 6-Step Process for Building Better Elementary School Schedules. Discover how to build highly effective schedules using proven strategies and tactics.
By attending this webinar, you will learn how to:
Reduce scheduling headaches and churn

Increase staff buy-in

Positively impact school culture
District Management Group was founded in 2004 on the belief that management techniques combined with education best practices are key to addressing American public schools' challenges. We partner with school and district leaders nationwide and provide them with the best management and educational practices, tools, and techniques to produce measurable, sustainable improvements that help schools and students thrive.
About DMSchedules
DMSchedules combines our powerful, web-based scheduling software, field-proven best practices, and a team of scheduling experts to help you define instructional priorities to develop effective student-centered school schedules and individual staff schedules. Today, thousands of educators nationwide use DMSchedules for their elementary school and special education scheduling.