Learn how to monitor curriculum implementation and determine your Academic Return on Investment (A-ROI)
Webinar Available On-Demand
Choosing the right curriculum and ensuring it is adopted with fidelity is essential to achieving your school district's goals and raising student achievement. But after you select a curriculum, how will you monitor fidelity of implementation and measure the impact? Districts often wait until multiple years have passed to assess the impact on test scores, but it's possible to track changes in teacher practice as an early indicator that the curriculum is being implemented well.
This webinar will introduce the Academic Return on Investment (A-ROI) framework for evaluating academic programs and will explain how this framework can be used to monitor a curriculum adoption so that you'll have better information about what is working, for which students, and at what cost.
During this webinar, you will learn:
How to go beyond test scores to assess the impact of a new curriculum

How one district used data on teacher practice to verify that a new curriculum was actually changing instruction

Tools that you can immediately use to monitor your next curriculum adoption
---
About our speaker: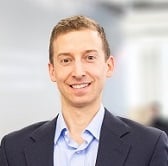 Sam Ribnick, Senior Director, DMGroup
With over 10 years working in consulting and education, Sam brings a depth of knowledge and expertise to his work with district and school leaders. Sam has led the development of DMGroup's approach to Academic Return on Investment (A-ROI), building out a toolkit, manual and training sessions to help districts use data to determine what works, for which students, and at what cost. With experience partnering with over 30 districts on A-ROI, he is currently the leader of our annual A-ROI Institute, the premier training opportunity for district leaders to build team capacity for more data-driven program and budget decisions.